My name is Judi and I have been a full time 'affiliate' now for 6 years! This can mean a lot of different things to many people. Basically, I will explain a bit further.
What is a Niche? Well imagine walking down a busy street and noticing a street of shops. Every shop is selling different things. Online each different shop is called a niche.
This is important because there are thousands of different shops out there and therefore thousands of different niches or commonly referred to as 'markets'.
So, then you will understand when I use the term 'niche rich' meaning many different markets or products.
Marketing is the same whether it be online or offline. you 'market' to your customers directly, indirectly or by word of mouth referral which is probably the strongest way of getting customers.

So in this website we are capturing as much information as possible on 'niche rich marketing' and putting out there for you the public to be informed about.
I always say knowledge is power but only if you take ACTION and use it. In an online business you have to take massive action with the knowledge you acquire to achieve the best results.
For me the best results are conversions of people looking and reading to people buying. In many instances I find people never cease to amaze me in that I can have a relatively inexpensive product and not make one sale.
I can then take this same product and offer it for FREE only with a modest postage and handling fee and make 1000 sales in a couple of days.
I digress, I could write here for ages on different strategies I have learned on marketing and selling products, but this site is about marketing many different niches.
How do I find the different niches to market. How do I market? Both good questions, now let me answer them.
In today's technical age, the word 'trends' has almost become a word that is overused. what does this mean?
Well if you look at all the different social media platforms, Twitter Trends, Facebook Trends, what is trending on LinkedIn, Amazon Trends, eBay trends.
Then we have the search engine trends, Google trends, yahoo trends and so on.
Personally, I like to look at 2 different lots of trends. I like to look at Google.com trends on technology for example. You can type any keyword you can think of and you will find trends.
Number 2 trends I like to follow are Link-share trends. What is Link-share?
Link-share is an Affiliate Company, registered as Rakuten Marketing.
It is free to join Affiliate companies as a publisher, which is what I do. The trends in this Affiliate company give us the latest markets or niches.
Most other trends give you products, Affiliate Companies give you the latest is niche markets.
Once I have the latest markets that are 'trending' the rest for me to generate an income is easy! To promote these niche markets, I then formulate keyword phrases and search to see how popular they are, what competition there is, and the availability of domain names, that are my short researched phrases.
Then in my already existing hosting server, I add on the domains after purchase and develop them into earning websites. What denotes an earning website? this is for another time and another article.
If you want to know more about my knowledge or programs I own, I have even written a couple of books on the subject, Boom For the Baby Boomers and Show Me The Money Honey. Both available online or in hard cover.
I will finish this article by saying, 'If It Is To Be It Is Up To Me'
Outrageous New Software Grabs Free Traffic And Leads On Autopilot
WOW!
I just watched a demo of the awesome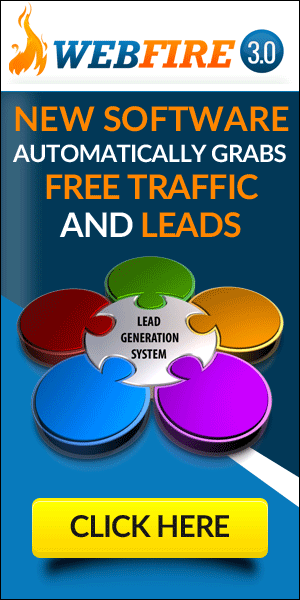 power of this new software called
WebFire 3.0.
That software is amazing.
You've got to see how easily you can
now get free traffic and leads on
autopilot to any offer in any niche.
Go Watch the Demo Now.
==> LINK
You can use WebFire to promote anything you want whether it's your product, an affiliate or CPA offer, or selling your web marketing services to other businesses.
Watch the demo of WebFire 3.0 and you'll see how to get results like this:
– Generate free traffic and leads on
autopilot to profit in any niche.
(Like WebFire member Judi who's now
up to $7K per week with this!)
– Easily deliver high priced services
from $1k/mo to $10K/mo with no prior training or tech skills.
– Dominate page 1 of Google for the
most powerful keywords not for just
1 spot – but for 2 or 3 or 4 so
you are the most visible site and get
most of the free visitors.
(Like WebFire member Tom who got
so many top rankings that his Adwords
rep told him he didn't need to pay
for ads any more!)
Go watch the demo video and see how
quickly and easily you can start!
==> LINK
Cheers!
Judi Jaques